Theory
This is a collaboration project, the aim being to make our own magazine/rough Guide to London. 

The area I am looking at is Brixton.

The idea is to acquire a sense of place and understanding of the richness and diversity of London; looking at culture and community and what attracts or repels someone about the area.
I am to show my understanding of Brixton in a visually interesting way reflecting my research and acknowledging other people's views and perceptions of the area. 
My first impression of Brixton
Urban
Cultural
Diverse
Damaged surfaces
Abandoned buildings
Graffiti
Crime
Moldy food
Run down 
Threatening
I collected a vast variety of found items from Brixton to help me represent the area in a visual way. Objects such as; receipts, letters, paper, bottle tops, cigarette packets, and more.
I also took photo's on film of various textural surfaces that look as though they are disintegrating as well as objects such as bins, telephone boxes, and graffiti on walls, benches etc.  I focused mainly on vandalism and the defacing of property and some de-collage.
I think these types of items reflect Brixton's threatening reputation and portray the idea of youth and culture. 
I have explored some possibilities, all with a similar outlook.
I found the textural surfaces quite interesting, therefore decided to look more specifically at surfaces, textures and patterns that appear to be damaged and disintegrating.
Creating a Negative of the surface:
I come up with the idea of creating an imprint or "negative" of a surface. Using Femo I have taken small scale imprinted samples of various surfaces around Brixton and from the items I collected from the area, picking up on scratches, indents and fibres, and trapping them. I also created some textural surfaces of my own and incorporated some of the found materials into them.
Interviewed responses
(a mixture of responses)
 Gethyn Stone, 21: 
"I work and spend most of my time in Brixton. It has a great blend of rough and smooth and both sides seem to take something from the other. It's both atmospheric and peaceful. I like the dingy bars, filled with pretty people. I hate the reputation it's involuntarily kept with regards to guns and muggings, it's not too bad."
Lynne Searl, 20: 
"I went out at night in Brixton and found it unwelcoming and threatening. I felt as though I was going to get stabbed!"
Kara Kibble, 20: 
"Brixton is amazing. The food there is to die for, especially all of the fried chicken shops."
A building in Brixton that has been abandoned and vandalised.
A negative portrayal of the area. 
Rough Guide - Study Task
Taking an object out of context.
The way an area is portrayed or the surroundings of which something is in can significantly alter a person's interpretation of said object; For example, a nice house within a run-down area. Its surroundings alone alter the value of the property and the way in which a person looks upon it. I have picked out 3 objects from within Brixton to show how the surroundings of an object can alter someone's perception.
This is a photo I took of the front of a run-down building. It appears as though it is disintegrating and being pieced back together by different pieces of wood, chip board and old bricks. I actually think it's rather intriguing with the small decorative details here and there, the variety of materials and subtle colours. This could in fact be used as the basis for a colour palette. However, people would consider this building inhabitable, neglected and perhaps an eyesore.
A gallery in Berlin which I have previously visited has apiece of work that reminds me of this building with its collection of random decaying objects that were once perhaps thrown away. Items such as doors, ladders, tiles, flooring and fragments from walls were collected from across Africa, pieced together and presented as a piece of art. When people look at this their perception is quite different to that of the photograph I took in Brixton. However, the elements within both are quite similar but because this is displayed within a gallery, not the streets of an urban area, it is considered art.
This is a dress I found in a second hand shop for £12.99 in Brixton. Because it is in a "second hand" shop and it's in Brixton, it has to be marked at a low price otherwise people wouldn't pay the money simply because it isn't brand new or because of the area in which it is being sold. However, if you were to see the exact same dress being sold in a "vintage boutique" down Camden Passage in Angel, you could expect to pay triple figures. The words associated with an item such as "second hand" can drastically alter how much value you give it.
Brixton now has it's own art gallery which reflects how self sufficient is is, founded by local artists, poets and creative persons. This is a piece that was held in Brixton Gallery, painted by Syed Mohammad Shamim;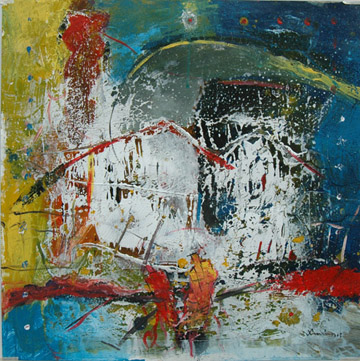 As a piece of art I do find it very striking however, i can't help but feel that a surface with the same qualities (layered, textural, colourful, and abstract) could be seen on a street wall within an urban environment, walked past every day and not classified as an art piece. Dependant upon the surroundings and the context in which you see it, a persons perception can be altered immensely. I have came across many textural surfaces within the environment that i find interesting, from disintegrating concrete and flaking paint to rust and mould growth. However, these surfaces are not classified as art pieces. If they were to be taken out of their surroundings, placed in a frame or behind glass in an art gallery, our perception of it would alter as well as it's value and we would perhaps view it the same way we do this piece of work.
The Rough Guide - Finished.
A handmade book; a collaboration of all our work reflecting various areas of London.
Artists that work with space and collections

Damien Hurst, Tracey Emin, Christian Boltanski, Joseph Beuys, Fluxus, Mark Dion, Rachel Whiteread, Michael Landy, Sarah Lucas, Joseph Cornell, Cornelia Parker, Kyoichi Tsuzuki, Jimmy Durham, Peter Fischli and David Weiss, Susan Hiller, Robert Rauschenberg, Rebecca Horn, Hans Stoffer, Lisa Milroy, Matthew Barney, Noble and Webster, Jeremy Deller, Hans-Peter Feldmann, Jan Svankmajer animations, Hip hop, Tim Walker
Sustainability
Drivers: -Evironmental-Social-Economic
Considerations when designing a product for sustainability:
waste
recycle/up-cycle
chemical impact
energy use and water use
better technologies
nature/history
ethical
consumption
systems and services
activism
Taking into consideration how you can design to lower wastage - removing chemical impacts and reducing waste and laundry. 
POSTMODERNISM IN FASHION
POSTMODERNISM: STYLE AND SUBVERSION 1970-1990
The Postmodernism exhibition at the V&A was astonishing. It showed how the term "postmodern" evolved from being just an architectural term to then applying to all areas within popular culture. Not only fashion, art and design but also film production, music and music videos. Postmodernism is considered a movement, much like cubism or surrealism. It is reoccurring still today and perhaps one of the most controversial movements.There is still the question of what postmodernism really means. 
This era is difficult to define - it is all about being different, crazy and "out there". It ranges from bold and colourful to dark and ominous. It's all about being bigger and better, with the use of vivid colour and theatrical, exaggerated shapes that form a statement. It's about the freedom of ideas and how to communicate them in perhaps a controversial, questionable or confrontational way. It broke the boundaries of art and design whereby almost anything could be considered "art" if it had some sort of alternate meaning behind it. 
The POSTmodernism movement is almost a complete contrast to MODERNISM. Modernism is all about simplicity and and clarity whereas POSTMODERNISM is more about making things meaningful with some underlying complexity or contradiction. This idea of breaking the boundaries and doing something of shock value is still being used a lot today across all practices of art and throughout the media. 
USING TRADITIONAL FABRICS IN A MODERN, UNTRADITIONAL WAY IS CONSIDERED POSTMODERN.
Fabrics such as Tartan or Paisley have a narrative of their own with traditional meaning. When they are used in fashion today in an untraditional way it alters the way we see them, but still cannot escape their original narrative. 
"Tartan is not just about the 'big narratives' usually attached to it such as clanship, Balmoral, Scotland etc. (meta-narratives if you like) but lots of other possible real and fictional mini-narratives that are referenced, or not at any time in any given situation (design, fashion, film, etc.etc.) which makes it such an enduring and essentially postmodern textile" – Jonathan Faiers.
Traditional patterns/textiles are used today within high fashion. Designers aim to make a statement through style, much like postmodernism itself. 
Dress by Vivienne Westwood
Westwood has taken tartan and created something new and expressive of rebellion. It is also considered ultra subversive if you are a woman wearing a kilt. A tartan skirt is suggestive of this. 
"Simplifying to the extreme, I define postmodernism as incredulity toward metanarratives."
"…disciplines disappear, overlappings occur at the borders between sciences, and from these new territories are born. The speculative hierarchy of learning gives way to an immanent and, as it were, "flat" network of areas of enquiry, the respective frontiers of which are in constant flux."
"It may even be said that the system can and must encourage such movement to the extent that it combats its own entropy; the novelty of an unexpected "move," with its correlative displacement of a partner or group of partners, can supply the system with that increased performativity it forever demands and consumes."
Jean-François Lyotard The Postmodern Condition: A Report on Knowledge
"It thus appears that it is extremely difficult to vanquish myth from the inside: for the very effort one makes in order to escape its stranglehold becomes in its turn the prey of myth: myth can always, as a last resort, signify the resistance which is brought to bear against it. Truth to tell the best weapon against myth is perhaps to mythify it in its turn, and to produce an artificial myth: and this reconstituted myth will in fact be a mythology. "
Roland Barthes Mythologies
"It is no longer a matter of elaborating a form on the basis of a raw material but working with objects that are already in circulation on the cultural market, which is to say, objects already informed by other objects. Notions of originality (being at the origin of) and even of creation (making something from nothing) are slowly blurred in this new cultural landscape marked by the twin figures of the DJ and the programmer, both of whom have the task of selecting cultural objects and inserting them onto new contexts."
"…we inhabit pre-existing narratives and unceasingly refabricate the forms that suit us. Here the goal of the image is to introduce playacting into systems of representation to keep them from becoming frozen, to detach forms from the alienating background where they become stuck if we take them for granted."
Nicolas Bourriaud Postproduction
"Just as the manifestations of life are intimately connected with the phenomenon of life without being of importance to it, a translation issues from the original – not so much from its life as from its afterlife. For a translation comes later than the original, and since the important works of world literature never find their chosen translators at the time of their origin, their translation marks their stage of continued life."
Walter Benjamin The Task of the Translator  
"…in the disciplines that we call the history of ideas, the history of science, the history of philosophy, the history of thought, and the history of literature…attention has been turned, on the contrary, away from vast unities like 'periods' or 'centuries' to the phenomena of rupture, of discontinuity."
Michel Foucault The Archaeology of Knowledge
VINTAGE CLOTHING AND REOCCURRING PAST STYLES
we inhabit pre-existing narratives and unceasingly re-fabricate the forms that suit us.
Rejuvenation of past styles, Nostalgia, Intertextuality, Homage, Self referencing, Incorporating previous techniques, patterns, trends.
The obsession with "Vintage" clothing at present is a form of postmodernism, along with the customization of old clothing called "remade". The amount of Vintage clothing shops becoming more successful has increased significantly. Shops such as TopShop, Urban Outfitters and American Apparel all have their own "Vintage" ranges that sell quite well. 
Vintage is about nostalgia, looking back on the most influencial times in our history. Shops such as TRAID, ROCKETT and BROWSERS
aren't as cheap as your standard second hand store but are no way near as expensive as your "Designer Vintage boutiques" such as the ones you'd find down Camden Passage in Angel, London. Eg. Annies, Cloud Cookoo Land.
Brands such as Adidas and Dr Martens are promoting their "Originals" ranges because people are more interested in trends from the past, trends that they can recognize. All other media forms also seem to be cyclical. This whole vintage obsession seems to prove there is no real originality. Everything is taken, stolen, modified, re-branded and re-branded. Fashion is constantly repeating itself, re-referencing, adapting, creating new structures and formations, fabricating new clothing by pulling apart something old and recreating it in a new original way. 
i-donline: The Richter Scale The Gerhard Richter retrospective at the Tate Modern will give you as good a gander at his artwork as you're going to get, but Corinna Belz's new documentary 'Gerhard Richter Painting' takes you way beyond the caption, watching him work. i-Donline.com TAKING SOMETHING OUT OF CONTEXT: To see this piece of work in an art gallery you'd appreciate as art, and it would be worth quite a substantial amount of money. However, if you were to see this same painted surface on a wall within an urban area it wouldn't captivate you quite so much. It would be seen as a defaced/damaged surface where the different layers of paint appear accidental and wouldn't be worth anything.
HAND-MADE VS MAN-MADE
-Can man made (synthetic) be handmade?
-Is the handmade ever handmade in the purest sense? (use of tools)
-To what extent can a tool be used and the outcome still be considered handmade?
The arts and crafts movement advocated the value and importance of good craftsmanship. There is a power that comes with being handmade. Items are considered to be more valuable by not only the maker but the consumer also.
Knitted dress by Sandra Backlund, 2008. V&A.
This hand knitted dress is astonishing. If it were made through mass production it wouldn't have the same aura. You can create different shapes and forms that a machine may not be able to. There is also the element of taking risks, trial and error. Something that may have been an accident could have effectively made someone incredible. The end result being an outcome that wasn't expected, this wouldn't have been possible using a pre-programmed machine. Textiles carry fundamental values. People are wowed by designs that are hand crafted and appreciate the efforts that have gone into them, and the maker values the effort they put into it. Something to be proud of.
Authenticity
"Even the most perfect reproduction of a work of art is lacking in one element: its presence in time and space, its unique existence at the place where it happens to be. This unique existence of the work of art determined the history to which it was subject throughout the time of its existence. This includes the changes which it may have suffered in physical condition over the years as well as the various changes in its ownership. The traces of the first can be revealed only by chemical or physical analyses which it is impossible to perform on a reproduction; changes of ownership are subject to a tradition which must be traced from the situation of the original." - (Walter Benjamin 1999:214)
Voidness Dress by Alyce and Jeanette Santoro, 2008. V&A.
Woven from audio tape, this dress is very unique. If it were to be taken into mass production, there wouldn't be two the same. Each audio tape is unique, the stories and music within them. This dress has integrated much more than just a new form of textile, it has memories.
Reproduction damages the power of a piece. Bespoke items always have an authentic uniqueness which adds value. At the heart of something handmade is authenticity, individuality, and personality. Without judgement, dexterity, care and risk there can be no authenticity. When something is handmade it automatically has power, both physically and culturally. For example, a handmade textile from a tribe in Africa would have more cultural value and authenticity than something manufactured to look as though it was made in Africa and to reflect their culture. It has more power because it's genuine and you gain a sense of understanding of their culture as the viewer.
THE V&A GALLERY - THE POWER OF MAKING
Fabrican spray on dress by Manuel Torres
"From its base at the Department of Chemical Engineering, Imperial College London, Fabrican technology has captured the imagination of designers, industry and the public around the world. The technology has been developed for use in household, industrial, personal and healthcare, decorative and fashion applications using aerosol cans or spray-guns, and will soon be found in products available everywhere."
THE BRITISH MUSEUM
"These galleries provide an insight into aspects of the cultural life of Africa, past and present. They include artefacts drawn from the entire continent and from many historical periods. The galleries also feature important works by some of Africa's foremost contemporary artists, as well as films demonstrating the dynamism and continuity of cultural traditions as they are enacted in Africa today." – The British Museum.
There are two pieces in particular that stood out to me. 
Textile piece, "Man's Cloth" by El Anatsui
Woven from bottle tops and copper wire, this is an un-traditional way of creating a textile. He shows a modern and contemporary approach to creating African art. I particularly like the pattern he has created through the use of colour and how he's kept to a subtle colour palette. 
The contemporary art installation Cradle to Grave by Pharmacopoeia
A collection of items that explores our approach to medical health in Britain today. It is based on two people and personal photographs and objects relating to them. There are two lengths of woven fabric with a lifetime supply of pills trapped within the fabric, illustrating both the woman's and man's intake. This represents the average prescribed to each person throughout their lifetime. The lengths of pills are central to the piece, surrounded by other memoirs of life and death. The photographs surrounding the piece are captioned by the owners and show typical events that you would encounter in day to day life. This is to symbolize that maintaining a sense of well being is more complicated than just treating or controlling illness.
Pharmacopoeia are Susie Freeman, Dr Liz Lee and David Critchley.
Reflective Statement
Using a blog helps you in ways of presentation. When uploading images of your work or writing it is being broadcasted for people to see, this enforces the idea that it should be presented well for the viewer to see the maximum potential of your work. When it comes to officially presenting your work you will have already gained an insight into how you may want it to look by displaying it on your blog previously. Photography is a great contributor to presentation, capturing moments or zooming in on specific elements of a piece, however small they may be, which may originally have been overlooked. It enables you to pick out details that are important in terms of your work and its not only for other people to view but also for you to reflect upon afterwards.
Using a blog also helps you to keep track of what you're doing with the ability to constantly reflect back to previous works or information you may have uploaded. This helps you to be critically analytical about your work as you can see various pieces at the same time and easily flick from one to another. It's a good way to keep everything together and start to form a house style and have your individual style become recognisable, perhaps through specific techniques, colours or styles you use within your work; a form of home-branding.
It's always good to get your work recognised and the internet is such a good source to use. A blog can be very personal and not necessarily professional when it comes to writing your thought processes as it's mainly for you to reflect back on. This can be good to get people to get to know your personality as well as your work. It makes it all become a lot more real to the viewer.
A website is obviously a great way to promote any work you may create, to try and broadcast yourself and perhaps even get commissioned for pieces - this is a very professional way of showing your work. A blog doesn't need to be like that, it can consist of not only your final pieces of work but also any experimentation you have done; what worked and what didn't. You can analyse each process as you go, kind of like a digital online sketch book. You can also repost any imagery you find inspirational and relative to what you are working on, and also see what other people are posting about current designers, trends, galleries etc.This is something you couldn't do on a personal website primarily created to try to sell your design work.
The aim of a blog isn't really to sell your work, it's more about getting it recognised and getting viewers interested. People can start to follow your blog and be influenced by what you are posting. They can then repost your images or designs with acknowledgement to you, which could then effectively get other people interested.
For me it isn't really about getting my work recognised but more for a personal use. I find it helps with the whole design process by using the blog as a digital sketch book whereby I can reflect upon my work and make decisions on how to make progress and the next steps to take.
-------------------------------------------------------------------------------------------------------------------------------------